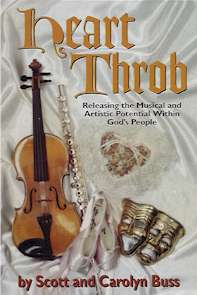 Item # 701
Reg. Price $9.99
Online Price $7.99
103 Pages
Paperback
20 Chapters
Authors:
Dr. Scott & Carolyn Buss
"Heart Throb" - Releasing the Musical and Artistic Potential within God's People

Table of Contents:
Heart Throb
Encourage One Another
Chip Off the Old Block
Talent Versus Ability and Environment
Destiny, Gifts, and Callings
Music Communicates
Bridging the Musical Generational Gap
Music: Sacred, Secular, or Satanic
Practical Musical Enjoyment, Environment, and Training
Included in the Chapter above are sections covering: Baby in the Womb; Infant; First through Eight Grade; High School; Young Adult; Married Years; Parenthood; Single Parents; Grandparents; Teachers; Mother's and Father's Heart; Pastors, Music Directors, Worship Leaders, Youth and Children's Church Leaders.
Author's Personal Music Journey
Providing a Music and Worship Training Ground Within at the Home, Church, and School
Priorities and Schedules
Order in the Music Camp
Practical Purposes of Music and Worship
The Discipline, Death, and Resurrection of a Gift
The Anointing
Ministry Versus Performance
Martyr, Quitter, or Champion
Passing on the Baton
A Surprise Awaits in Argentina
Section on Testimonies as well.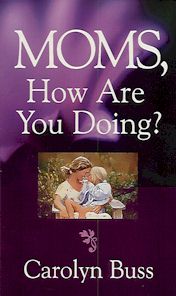 Item # 702
Reg. Price $9.99
Online Price $8.99
152 Pages
Paperback
14 Chapters
Author:
Dr. Carolyn Buss
"Moms, How Are You Doing?"
A Ministry of encouragement to moms and their children, whether natural, spiritual, adoptive, or single.
Chapter Headings:
You
No Time
"Normal Motherhood"
Sound the Alarm
Godly Priorities
Biblical Goals
Dealing With Guilt
Forgiveness: Receiving It & Giving It
How To Be a Better Mom
A Tribute To Mothers
My Prayer For Moms Everywhere
A Letter From Mrs. Lee Toal
Carolyn's Testimony
In Closing
Part of the Introduction Reads:
Dear Moms, If you are a perfect mother and never had had any questions, shortcomings, fatigue, burdens, concerns, or failures, then this inspirational book is not for you. I am writing to the mothers of all ages (including mothers-to-be) who need a little encouragement along their journey, and who are not ashamed or too proud to admit it!...... You will discover that this book has to do with YOU! Allow yourself the inner fulfillment of personal ministry as you read it. May you be honored and commended for your hard work over the years, and may you be comforted, healed, encouraged, strengthen and inspired to complete your journey as a mom.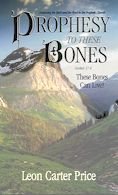 Item # 717
Reg. Price $11.99
Online Price $9.99
135 Pages
Paperback
17 Chapters
Author:
Leon Carter Price
ISBN 158169038-X
"Prophesy to these Bones"
Balancing the Spirit and the Word in the Prophetic Church. These Bones Can Live! Ezekiel 37:4

Chapter Headings:
Meeting the requirements of the high calling
What's going on?
The reality of God's prophetic voice
The function of the prophet
Applied prophecy today
The mystery of "how"
Hearing from God
Preparation of vessels
The purpose of spiritual gifts
Examples of prophetic ministry
Requirements of righteousness
Practical practices
Faith to function
Judging prophecy
Implementation of the prophetic function
Other views / Who and What
Utilizing the gift